Gisela und Walther, Ulrike und Günther aus Freiburg
Obwohl wir mit dem Wetter wirklich Pech hatten. Ein Glücksfall war unser Greet mit Gudrun gestern in Wuppertal!
Nach einem kurzen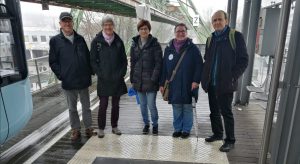 Rundgang im Zentrum, bestiegen wir die Schwebebahn und setzten so unsere Stadtbesichtigung fort.
Für uns ein eindrucksvolles Erlebnis, dieses Fortbewegungsmittel. Als waschechte "Wuppertalerin" erwies sich Gudrun als kompetente Stadtführerin und brachte uns ihre Stadt nahe.
So erfuhren wir viel über diese junge Stadt, ihre Usprünge und die Industriegeschichte. Eine Einkehr im außergewöhnlichen Kirchencafe beendete den Greet. Gerne nochmal bei besserem Wetter und mit anderen Zielen!
Gisela und Walther, Ulrike und Günther aus Freiburg.
Catharina from Erfurt
Hello Meieli, we found the Greet with you very nice. However, we were all somewhat exhausted at the end and were happy when we were on our way home after dinner.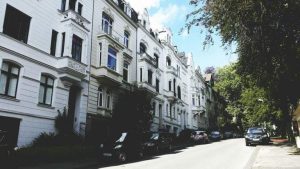 The city itself did not impress my colleagues but your personality and the beautiful corners were very well received. Personaly, it was very nice to see a few unknown corners.
Since I won't be moving away anytime soon, I would like to make friends with Wuppertal and further explore its charm.
Thank you for showing us your Elberfeld so enthusiastically.
Many greetings
Catharina
Laurent & Carolina aus Strasbourg und Valencia
Wir hatten eine super Zeit in Wuppertal. Das haben wir zum großen Teil Ulli, unserem sehr freundlichen Greeter, zu verdanken.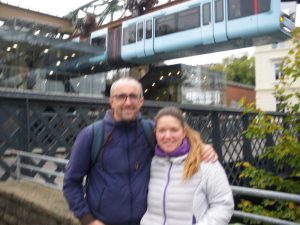 Als alter Hase, hat Ulli uns die verkannten Ecken in Wuppertal gezeigt, dabei viele Details und interessante Geschichten erzählt.
The suspension railway is a great means of transport to explore and to see some wonderful views of the city.
Wir werden bestimmt nochmals nach Wuppertal kommen.
Laurent & Carolina"
Silvia from Bielefeld and Chicago
Jamil's last greet had visitors from Chicago and Bielefeld.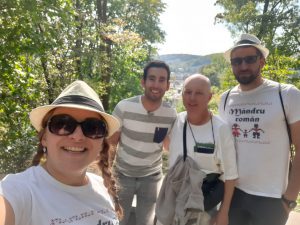 Jamil: "The tour went through the Briller Quarter (Briller Quarter) and the Luisen Quarter (Luisenviertel). After a lunch in the restaurant Katzengold, we rode on the suspension railway to explore Wuppertal from above.
It was a nice Sunday Greet that passed much too quickly."
Strefanie from Münsterland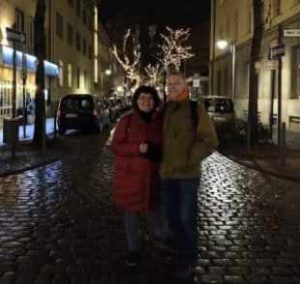 Hello, we really enjoyed the visit. The last time I was in Elberfeld was 40 years ago and now I was more than pleasantly surprised.

Elberfeld is chic, young and lively. So much better than its reputation.
So viel besser als sein Ruf.

And our greeter managed to prove this to us with a lot of enthusiasm.

Our conclusion DEFINITELY AGAIN
Kind regards Stefanie
---